The Easiest & Safest Way To Repel Insects,Pests & Rodents Is Finally HERE!
Are spiders, ants, mosquitos, roaches, and rodents invading your home? Are you are tired of buying "otapiapia" and "kill and dry" - these ancient pest elimination methods that do not work anymore?
Now you can make them all disappear for good with Atomic Zapper! It's the first ultrasonic pest repeller and flying insect zapper combined into one powerful device. Completely rid your home of irritating insects and disease-carrying rodents so they won't come back. Atomic Zapper also attracts and zaps flying insects dead. It uses ultrasonic soundwaves to drive bugs away and keep them away.
No more smelly/harmful chemicals around your kitchen or bedroom, which most of the time, contaminates food and causes illness.
Keep your home free of rodents and pests with this Electronic Pest Repeller.
Thanks to Ultra-Violet Technology, Atomic Zapper attracts and kills flying insects.
FEATURES:

No installation is required to use. Just plug in and it's ready to use
High-Frequency ultrasonic soundwaves drive bugs & pests away for good
2-In-1 Ultrasonic Pest Repeller and flying insect zapper
It uses just electricity. No chemicals.
Simply plug it into an outlet in each room that you want to protect. It uses silent ultrasonic sound waves to drive pests away, and it has a blue UV light that attracts and zaps flying insects.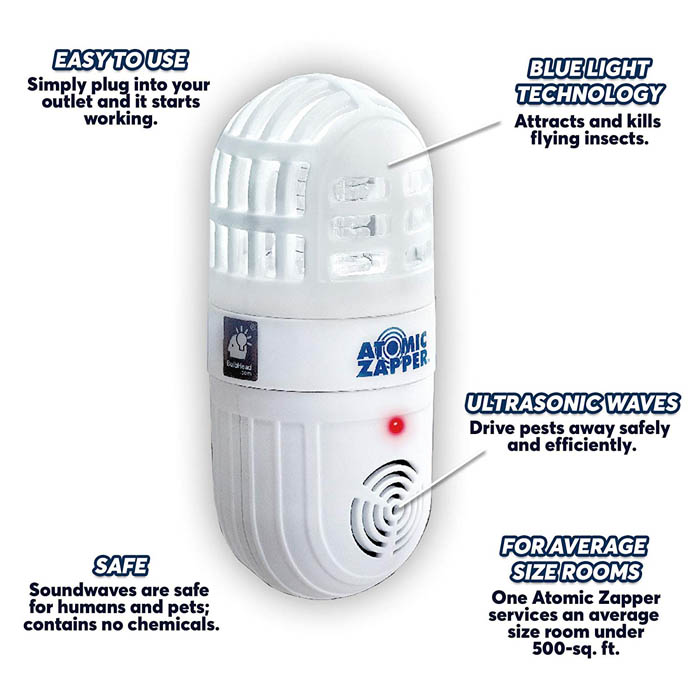 All orders are via payment on delivery-which means you don't pay until you receive the product.
KINDLY FILL THE FORM BELOW TO PLACE YOUR ORDER

Don't Take Our Word For it! Here's What Our Customers Think: