Arm Slimming Shaper Wrap (1 Pair)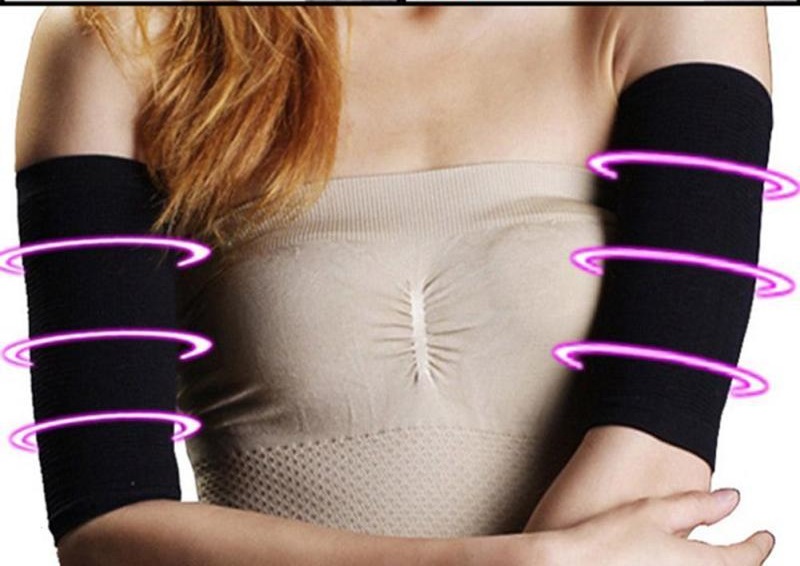 These revolutionary new arm shapers help slim down the upper arms and burn stubborn fat over time! Comfortable and easy to wear, this shaper holds sagging skin, reduces jiggle and shrinks inches from your upper and lower arms. So go ahead and reach for the stars. Shopper Avenue's Arm Shaper is here to support you!
Features:

Melts away cellulite, tightens excess skin and burns fat!
Helps increase burning of calories



Easy to use, can be used at any time.



The best time to use: after a bath, while working out or underneath clothes throughout the day
Material: Nylon + Spandex



We are giving 20 FLAT TUMMY SLIMMING CREAM FOR THE FIRST 2O BUYERS !!! IT IS FIRST ORDER FIRST SERVE
FAQS
Q: Why is it so small?
A: When you first receive the arm sleeves, they appear small. However, because this is a compression garment, they have considerable stretch. They will also slowly adjust to the size of your arm and become larger after multiple wears.
Q: How long should I wear it and how often?
A: We suggest wearing the sleeves for 30 minutes a day, every day. You will see results after 30 days and will continue to see results with frequent wear. If you prefer, you can wear these sleeves throughout the day for control of arm flab/jiggling, or to fit into a form-fitting piece of clothing. It all depends on your comfort level, but 30 minutes per day is the minimum amount of time we recommend.
Q: How does it burn fat/reduce excess skin?
A: The ribbed texture of the garment along with the compression increases blood flow to the area and burns more calories. It also trains the skin cells to stay closer together, and the ribbed texture increases elastin and collagen production, which helps skin return to its original condition.
Q: What is the largest diameter these can stretch to?
A: They have considerable stretch, but 15 inches in diameter is the largest it can comfortably stretch to.
Q: How should I wear these?
A: Pull these up over your arm all the way up to your armpits, so the sleeves sit comfortably on your upper deltoid area.
We are giving 20 FLAT TUMMY SLIMMING CREAM FOR THE FIRST 2O BUYERS !!! IT IS FIRST ORDER FIRST SERVE
What are People actually saying about this product?

SUITABLE FOR BOTH MEN AND WOMEN WITH AMAZING RESULTS
PROMO! PROMO!! PROMO!!!
40% off + Free Delivery
PRICE = N16,000
PRICE = N12,500

MAKE YOUR ORDER NOW AS PRICE GOES BACK TO N16,000 IN
We are giving 20 FLAT TUMMY SLIMMING CREAM FOR THE FIRST 2O BUYERS !!! IT IS FIRST ORDER FIRST SERVE
NOW YOU CAN GET IT FOR = N12,500

Please We Are Begging, DO NOT Place An Order For This Magic arm shaper if you don't have the following below :
The SUM of 12,500 Naira for the product.
If you are not ready to receive the product within 1 to 5 days To Avoid Wasting Our Time, Money And Resources.
Please don't place an order if you will be travelling in the next 5 days from now.
Payment On Delivery
KINDLY FILL THE FORM BELOW TO PLACE YOUR ORDER
Copyright 2019, Dealupdeals
This site is not a part of the Facebook website, Facebook Inc. Additionally, this site is not endorsed by Facebook in any way. Facebook is a trademark of FACEBOOK Inc.
Privacy policy | Disclaimer